A boy who's really from another planet. A headteacher who's not completely human. A mysterious, old lady who knows more about the universe than you'd think.
Get ready for a wonderfully weird and wacky trip to places in the universe you didn't know existed! If Douglas Adams had written The Hitchhiker's Guide to the Galaxy for kids, it might go like this…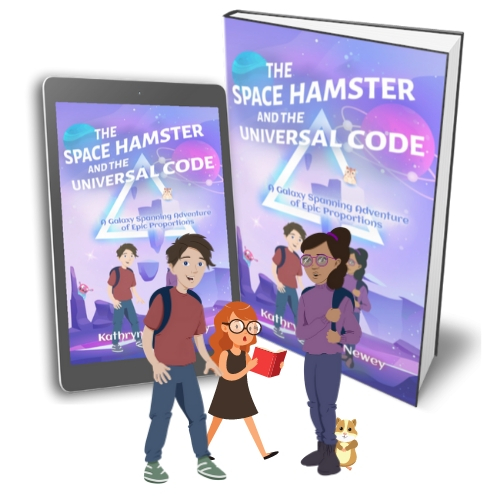 Ilnoblet Elmer thought the Mootilokygogrifies, those devious, purple, water-stealing aliens, had been banished from Earth for good. But then their leader turns up in disguise, and Ilnoblet's world is turned upside down.
When his sister is kidnapped, he leaps into action. To find her, he travels with his friend Margaret to a surprising and mathematically challenging part of the universe, full of unexpected events, curious rooms, and far-out beings, including a very important hamster.
Along the way, he must figure out the riddles his arch-enemy left him, and learn about friendship, family, trust and betrayal.
Can he work out the important clues to save his sister and stop the Mootilokygogrifies from destroying everything, before getting his sister and Margaret back home in time for dinner?
---
The Space Hamster and the Universal Code is the second book in the Ilnoblet Elmer series.
If you're 9-14 and like stories in other worlds, a surprise around every corner, and puzzles to solve, you'll love this fun, interactive, science fiction adventure.
---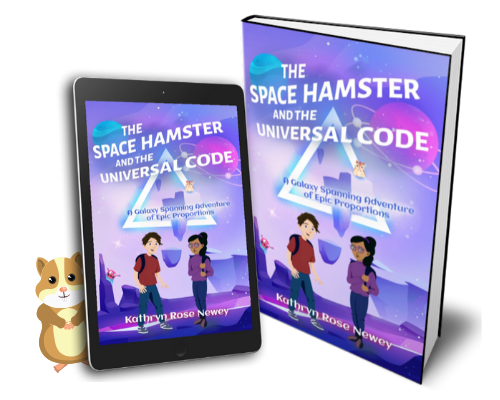 Your mission, should you choose to accept it:
Read 'The Space Hamster and the Universal Code', crack the code, and save the universe!
Get your paperback or ebook from:
---
This is the second Ilnoblet Elmer book, following on from the shorter novella, Ilnoblet Elmer and the Alien Water Thieves. Both of these books can be read as standalone novels.
---
Paperbacks and ebooks are available from most Amazon websites and major online bookstores internationally, such as Barnes & Noble, Booktopia, Foyles, Waterstones, Blackwells, etc.
The Kindle reader app can be downloaded for reading Kindle ebooks on any device (such as PC, Mac, iOS or Android).
Paperback ISBN: 978-1-78926-501-9
Ebook ISBN: 978-1-78926-500-2
---