Looking for off-the-shelf home schooling activities which are not only fun and engaging, but also truly educational?
Introducing 'Science Fiction Station': A free series of themed mini-lessons for kids aged 9-12, in videos and matching worksheets.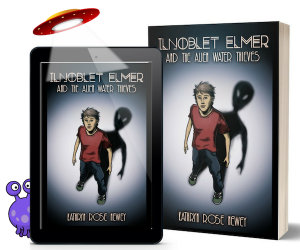 All done for you.
The videos and worksheets are based on the kids' Science Fiction novella
Ilnoblet Elmer and the Alien Water Thieves
by the author.
The 10 videos, or 'mini-lessons', run for about 20 minutes each
. In each video, the author, who is an educator and a trained primary school teacher, reads a chapter from the book, then demonstrates and explains all the matching worksheet activities. Included are varied
English, Maths, Science and Art & Crafts activities
– such as fiction and non-fiction writing activities, drawing, creating, numbers, research and projects.
Lots of the KS2 and even some KS3 curriculum is covered (tween/middle school)
. Scroll down to see some of the subjects/activities included. After watching each video,
the accompanying worksheet activities will take another 30-90 minutes
to complete, depending on your preferences and your child's needs and abilities.
Check out this sample 'Science Fiction Station' video: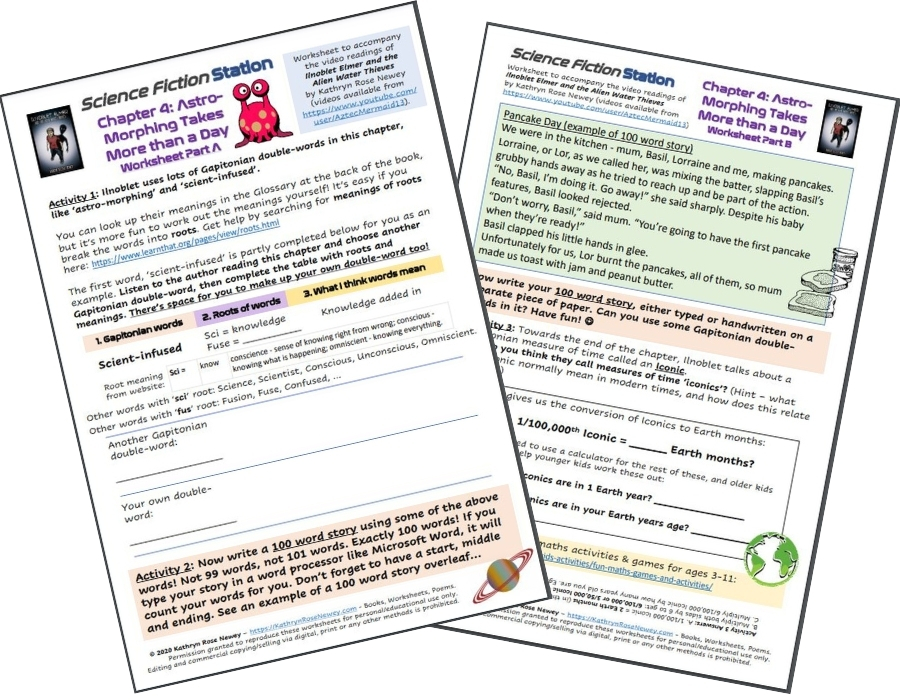 Here is a sample of this video's matching worksheets – [Download not found]
Kids can read along, or listen, to the chapter read by the author, then do the worksheet activities with siblings, friends, family and household members, and/or in online groups, independently or with you – the more, the merrier!
Suitable for ages 9-12, but even older kids will enjoy some of the more challenging stuff. Younger children don't have to be left out either
– they can join in, with support from older siblings or adults.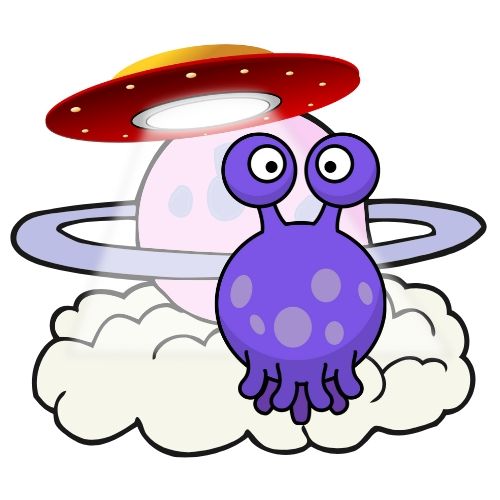 Simply sign up below for ALL the worksheets and posters, to get instant access to 'Science Fiction Station' worksheets and videos.
Here are just some of the many cross-curriculum activities included in the worksheets:
Imagining, drawing and labelling your own alien being,
Writing a 100-word Science Fiction story,
Investigating how species are classified,
Completing a Gapitonian Scient-Collection of Universal Species form,
Exploring Egyptian Hieroglyphics,
Drafting a news report about aliens in garden sheds,
Investigating number patterns and palindromes,
Finding out word root meanings and making up your own words,
Converting Earth years to Gapitonian Iconics,
Designing logos/pictures for T-shirts,
Making a 'Wanted' poster,
Completing a quiz about Earth's water,
Creating an anti-Mootilokygogrify poem,
Preparing a blueprint for water-collecting technology…
…and more!
Plus there's a secret bonus worksheet with lots of additional space-themed, home-education activities and website links as a surprise gift for those who complete all the videos! 🙂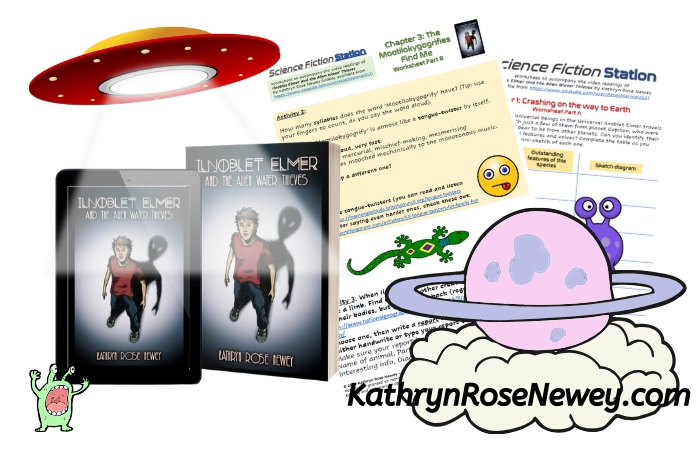 Get exclusive, free access to ALL worksheets and posters, including 'Science Fiction Station'. Check out all the other worksheets here.
Simply sign up via the 'Unlock your Exclusive Access' form on my website (also here), and you'll have access to this and all the other worksheets and posters.
If you've already signed up and are looking for your worksheets & posters, please use the exclusive subscribers-only link in any of the newsletter emails.
---
You only need to sign up once. You're signing up to receive free, unlimited access to all worksheets and posters. You'll also get updates whenever new worksheets and posters are added, plus receive occasional news on workshops, books and events, as well as relevant eco-tips and info from the author. You can unsubscribe at any time.
---
Kids may find it useful to have a copy to follow along in while the author reads from the book. Both paperback and ebook versions of the book are available on Amazon.
The ebook version is usually available
free to Kindle Unlimited subscribers
(readable in any Kindle app).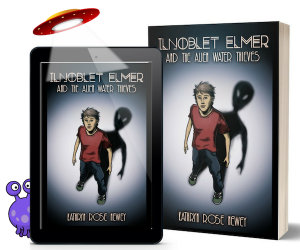 Get your paperback or ebook from:
---
All worksheets, posters and educational resources
are original creations by the author, unless otherwise stated. Once signed up, you are free to download, print and copy them for personal and educational use. You may not sell, hire or copy them commercially, or edit or forward them without permission. Thank you.
---
Paperbacks and ebooks are available from most Amazon websites and major online bookstores internationally, such as
Barnes & Noble
,
Booktopia
,
Foyles
,
Waterstones
,
Blackwells
, etc.
The Kindle reader app can be downloaded for reading Kindle ebooks on any device (such as PC, Mac, iOS or Android).
Paperback ISBN: 978-1-97934-353-4
---