The book Animals in the Forest: The Day Terrible Things Came may raise questions for readers. WonderWorksheets have been designed to help readers with taking it further.
WonderWorksheets offer reading and discussion questions (comprehension-style questions around extracts from the story), with space to write answers and notes, as well as suggested fiction and non-fiction writing activities, SPaG (spelling, punctuation and grammar) practice quizzes, and website links and examples for more research.
WonderWorksheets are perfect for children, young teens, parents, teachers, homeschoolers, clubs, private tutors, or anyone who cares about the Earth and wants to learn, teach and change the world for the better…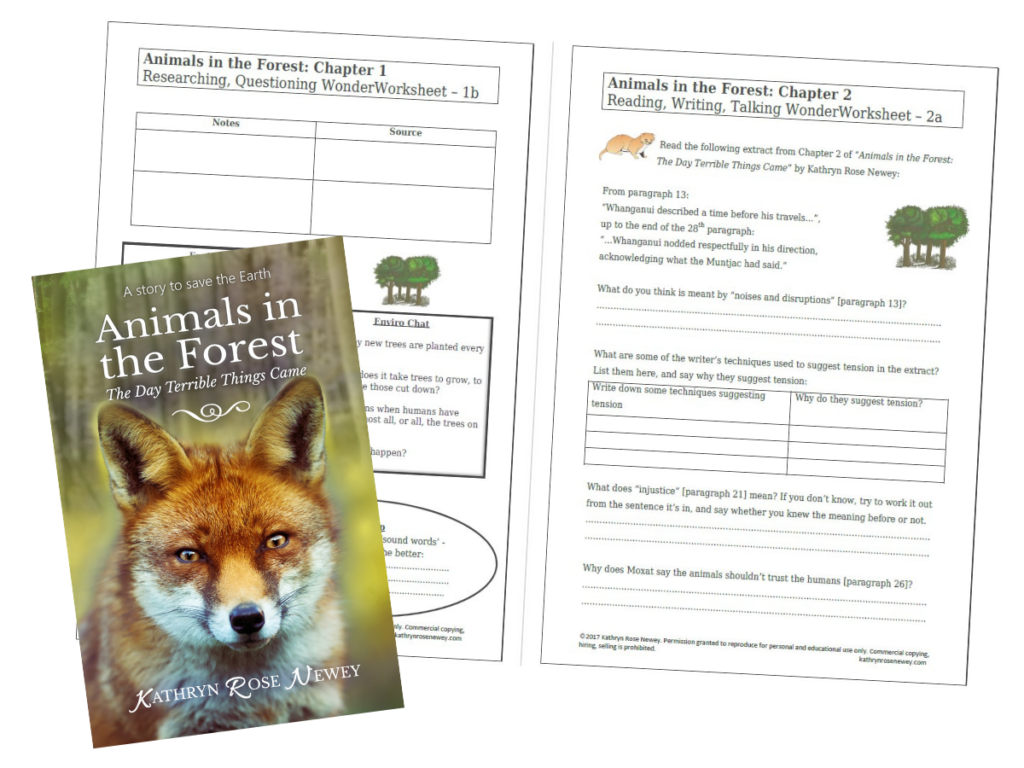 ---
Have a look! Download these SAMPLE WonderWorksheets for free (available as Adobe Acrobat PDF files):
FREE – Animals in the Forest – Chapter 1 – Reading Writing Talking WonderWorksheet 1a (2 pages)
FREE – Animals in the Forest – Chapter 8 – Researching Questioning WonderWorksheet 8b (2 pages)
---
*Get your complete booklet of WonderWorksheets for all the chapters (comprising 18 worksheets/38 pages, available for download as one Adobe Acrobat PDF file) for free, when you sign up to my mailing list via the 'unlock your exclusive access' form alongside.
Enjoy learning, questioning, discussing and growing with your WonderWorksheets! 🙂
---