The Space Hamster and the Universal Code
A Galaxy-Spanning Adventure with Ilnoblet Elmer...
Get ready for a wonderfully weird trip to places in the universe you didn't know existed! If Douglas Adams had written The Hitchhiker's Guide to the Galaxy for kids, it might go like this…
When Ilnoblet Elmer discovers his new headteacher is not quite what he thought, he uncovers a secret: the Mootilokygogrifies, or Moots for short, are back on Earth.
Then his sister disappears. Using mysterious, tetrahedron-shaped gifts, he is transported to a strange and wonderful place full of unexpected events, curious rooms, and even stranger beings.
He realises there is only ONE thing that will get his sister and him back home in time for dinner, and stop the Moots destroying everything…
Can you help him work it out, as you journey with him on his extraordinary adventure?
Update (May 2020): Now available in a galaxy near you, and your favourite online bookstore! Find out more here.

---
The first novel in the 'Ilnoblet Elmer' middle grade Science Fiction series, Ilnoblet Elmer and the Alien Water Thieves, is also available.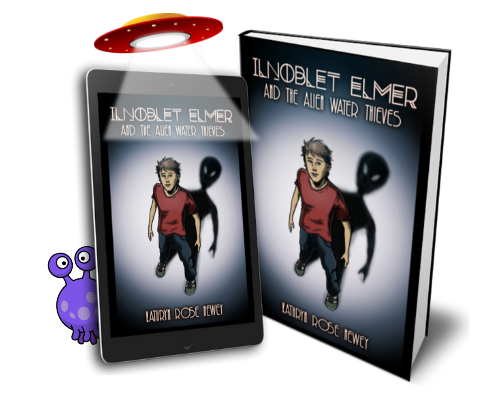 If you haven't already grabbed your copy of the book, check it out.
Get your paperback or ebook from:
"Science fiction readers who want a little fun with their science would enjoy this book… This adventure story is fit for both kids and kids at heart… With great pleasure, I rate 'Ilnoblet Elmer and the Alien Water Thieves' 4 out of 4 stars."

– Official review by OnlineBookClub.org.
---
Paperbacks and ebooks are available from most Amazon websites and major online bookstores internationally, such as Barnes & Noble, Booktopia, Foyles, Waterstones, Blackwells, etc.
The Kindle reader app can be downloaded for reading Kindle ebooks on any device (such as PC, Mac, iOS or Android).
Ilnoblet Elmer and the Alien Water Thieves – Paperback ISBN: 978-1-97934-353-4
The Space Hamster and the Universal Code – Paperback ISBN: 978-1-78926-501-9, Ebook ISBN: 978-1-78926-500-2
---