---
---
Free Worksheets and Posters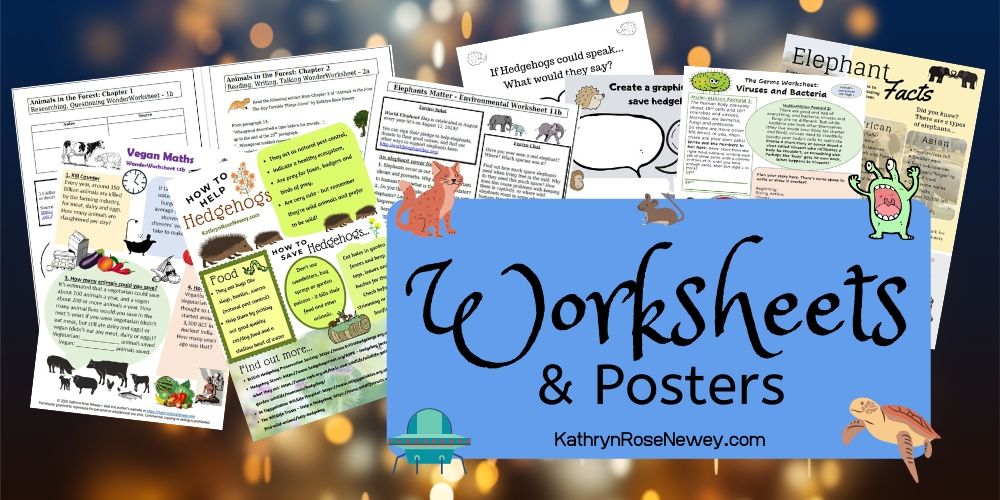 The worksheets cover various curriculum topics and skills in each one. Develop English, Maths, Science, Research and Creative skills through fun topics about Animals, Environmental issues, Biology, Ecology, Science, Geography, Maths and Astronomy!
---
News, Fun & Freebies
The author's blog has news & info about books, worksheets, posters, videos, fun activities, writing workshops and events, as well as environmental issues and animal rights.
You can also read about other authors and interesting people, and get help with writing and self-publishing for new authors of any age.
---
Original Poems
Explore poetry about environmental issues, animal rights, and human-interest topics. Suitable for secondary/high school students and older poetry-lovers.
---
Author Talks, Visits and Workshops
I offer writing workshops, author talks, book signings, environmental presentations, and self-publishing Q&A sessions. Suitable for any ages – I can come to your school, club, group or bookstore in Hertfordshire and surrounding counties in South East England, or do an online workshop/talk.
---
Read. Learn. Save the planet (and the universe).
Unlock your exclusive access to ALL the worksheets and posters, and get updates on writing workshops, fun events, competitions, books, new worksheets and posters, environmental facts, interviews and other interesting Earth-saving info.
---