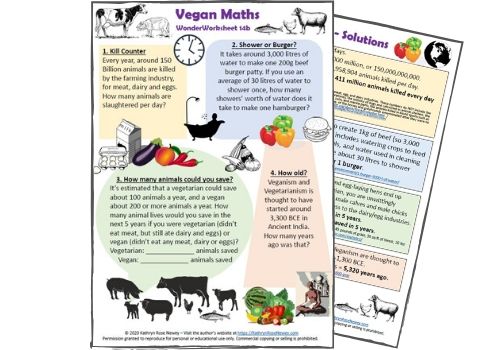 A set of worksheets which let you practise your maths skills, at the same time as teaching you about Vegan and Factory Farmed Animal statistics.
Four maths questions focusing on the environmental and animal costs of consuming meat, dairy and eggs.
The worksheets cover maths problems and facts about:
Numbers of animals slaughtered worldwide by the meat, dairy and egg industries,
How much water it takes to create one beef burger,
How many animals could be saved by changing to a vegetarian or vegan lifestyle,
Calculating how old Veganism is thought to be.
With answers, facts and website links, so you can find out more.
---
Unlock your exclusive, free access to these and ALL the other worksheets and posters:
---
You're signing up to receive free, unlimited access to all worksheets and posters. You'll also get updates whenever new worksheets and posters are added, plus receive occasional news on workshops, books and events, as well as relevant eco-tips and info from the author. You can unsubscribe at any time.
---
Factory farm pig image by acceptphoto/Shutterstock.com
Happy pigs image by skeeze/Pixabay.com