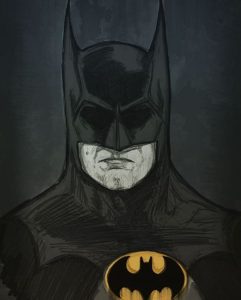 Or more precisely, what do an illustration of Batman and the book cover for 'Ilnoblet Elmer and the Alien Water Thieves' have in common?
Answer: Both have been drawn and designed by Jamie Ridge, who is currently an Art & Design student and aspiring illustrator!
Jamie and other Art & Design students from Oaklands College in Hertfordshire, UK, partook in a competition in November 2017 to design the book cover for 'Ilnoblet Elmer and the Alien Water Thieves'.
The author, Kathryn Rose Newey, briefed the students with a synopsis of this children's and young teens' science-fiction story, a brief extract of a scene with Ilnoblet and an alien, and some measurements and file specifications for the book cover. The students then went off to weave their own interpretations of this story into an original book cover for it.
Jamie put his initial ideas onto paper, then translated his developed drawings into a digital drawing via a tablet drawing app. The book cover design was then tweaked and completed in online image-finishing software.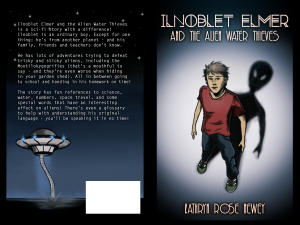 Kathryn says "I felt that Jamie, who hadn't designed a book cover before, had a really good feel for what a book cover needs. His overall concept and execution were good. He had interpreted the character of Ilnoblet well for younger readers and cleverly used a reference to another science-fiction story – I think it all works wonderfully!"
You can see more of Jamie's artwork at his Instagram account here.
'Ilnoblet Elmer and the Alien Water Thieves' is available in Paperback and e-Book formats from Amazon.com and Amazon.co.uk (as well as various amazon websites worldwide).