Elephants – an important part of the great web of life – do matter!
But they're having a tough time, thanks to humans. Poached for ivory, culled, hunted, suffering from habitat loss, captured for zoos and circuses, caged or confined as working animals…
Find out more about the struggles of elephants, and why we need them to survive in the wild, here: "Elephant Extinction – Does it Matter?"

I've created these free, downloadable Elephant educational resources for you:
---
'Elephants Matter' Environmental Worksheets
This 2-page set of worksheets covers all sorts of activities on elephants, including:

Design a mind map on the reasons elephant populations are declining (with a cool video link explaining mind maps)
Find out how we can all get involved in saving elephants
Investigate what World Elephant Day is all about
Research and have discussions about how elephants occur in our myths and legends
Explore etymology of the word 'poach'
Learn fun facts and watch videos about unique elephant relationships
…and more!
---
'Elephant Facts' Eco-Poster

This A4-size, colour poster covers various facts about elephants, including:
Differences between African Elephants and Asian Elephants
Reasons why elephants are becoming endangered/going extinct
Statistics on elephant numbers
Advice, with website links, on what you can do to help elephants
---
Unlock your unlimited, free access to this and ALL worksheets and posters by completing the quick 'unlock your exclusive access' form alongside or below. If you've already signed up and are looking for your worksheets & posters, please use the exclusive subscribers-only link in any of the newsletter emails.
---
You're signing up to receive free, unlimited access to all worksheets and posters. You'll also get updates whenever new worksheets and posters are added, plus receive occasional news on workshops, books and events, as well as relevant eco-tips and info from the author. You can unsubscribe at any time.
Enjoy researching, reading, writing, talking and saving elephants! 🙂
---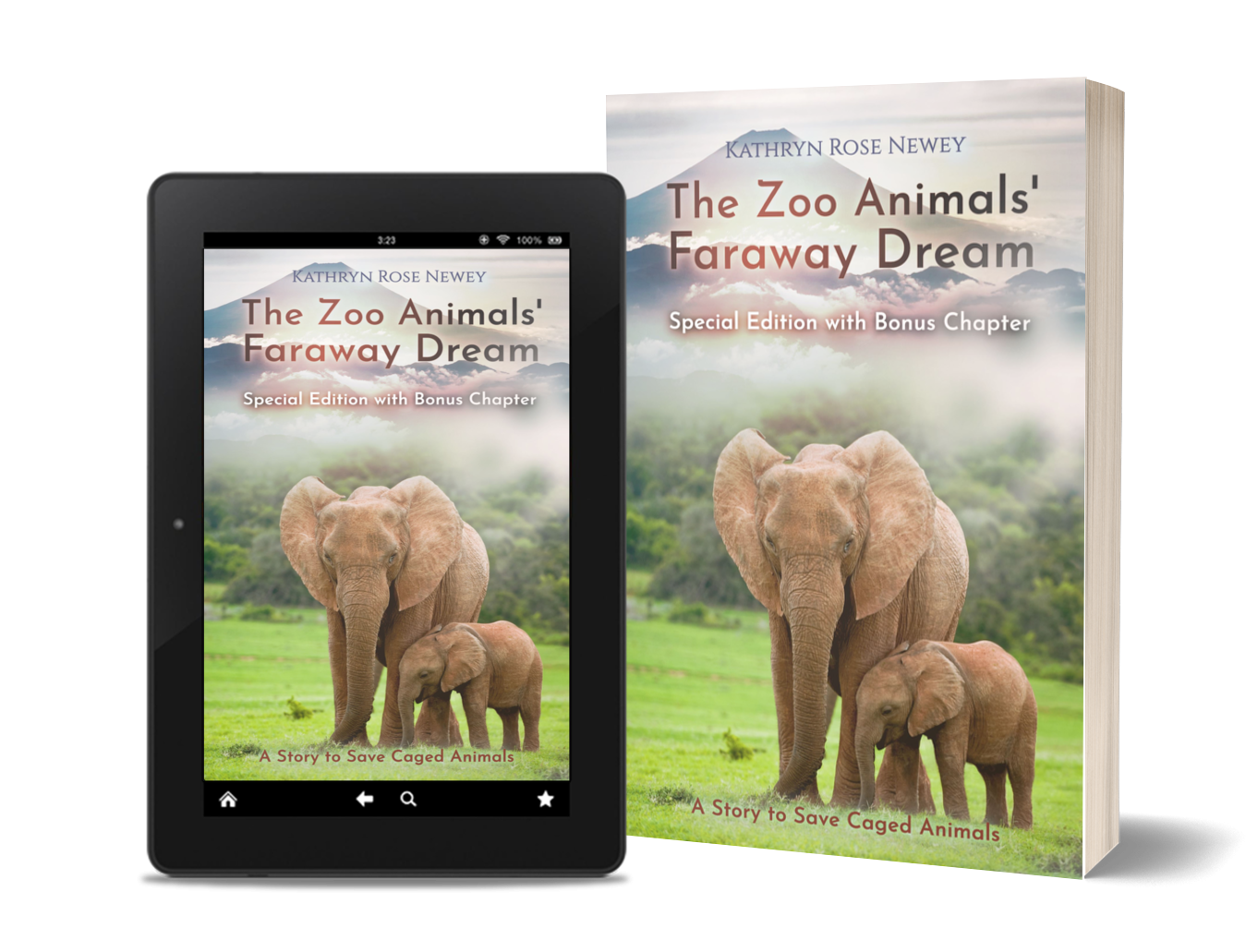 The Zoo Animals' Faraway Dream (Special Edition) is a novel exploring how zoo animals, including elephants, cope with being enclosed in cages and stared at by humans all their lives.
Ndlovu the elephant spends her days eating, basking in the few minutes of sunshine and staring at nothing in particular. Until one day a mysterious new animal arrives in the zoo, who doesn't have a cage, telling everyone stories about other animals in the outside world.
Most animals don't believe him, until something happens which means they must take a stance. Will they have what it takes to defeat the forces against them?
The Special Edition features a bonus chapter, so that readers can explore two different realities.
There is also a non-fiction section at the end of the novel, with information and website links, so readers can find out more about caged animals worldwide.
---