Going mad with the kids stuck at home during Coronavirus lockdowns?
Running out of ideas for fun and worthwhile home-schooling activities?
Why not let the kids explore The Germs Worksheet: Viruses and Bacteria?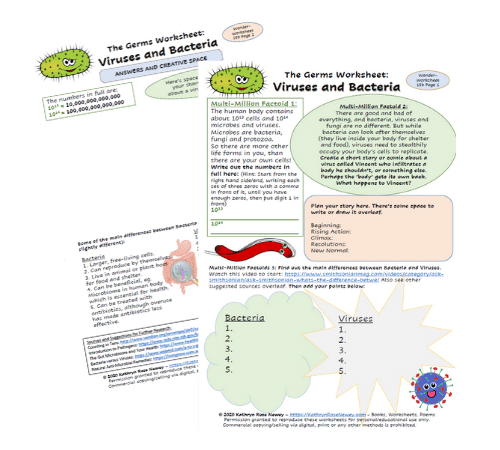 This 2 page set of worksheets is a great way for kids aged 9-13 to get educated about bacteria and viruses. It's an established fact of psychology that learning about something, and exploring it honestly is a good coping mechanism, and will help to take away some of the panic and fear.
The worksheets include 'multi-million factoids' and related activities:
Writing numbers of microbes in full numbers from powers of 10,
Creating a story or comic about a virus called Vincent,
Researching via suggested video and websites the key differences between Viruses and Bacteria.
The worksheets include answers, space to work, and websites for further investigation.
---
Unlock your unlimited, free access to this and ALL worksheets and posters by completing the quick 'unlock your exclusive access' form alongside or below. If you've already signed up and are looking for your worksheets & posters, please use the exclusive subscribers-only link in any of the newsletter emails.
---
You're signing up to receive free, unlimited access to all worksheets and posters. You'll also get updates whenever new worksheets and posters are added, plus receive occasional news on workshops, books and events, as well as relevant eco-tips and info from the author. You can unsubscribe at any time.
---
Sources: https://www.betterhealth.vic.gov.au/health/conditionsandtreatments/fear-and-anxiety-children