Plastic is everywhere – so much so, that we might as well give Planet Earth a new name: "Planet Plastic".
Explore the environmental issues of plastic waste, pollution and solutions in this 2-page set of eco-worksheets I created just for you.
The worksheets encourage you to consider all the different types of plastic, non-recyclable products we use in our everyday lives, as well as explore solutions to the problem.
In these worksheets, you will:
find out about some clever inventions and innovations with plastic,
learn ecological vocabulary,
discuss ocean pollution,
investigate the plastics problem further with website links provided.
Suitable for anyone aged 9-14 years or older. The worksheets can be used for independent study, but as they have interactive and discussion-based activities built in, you may prefer to complete them with someone else or in a group (online or in-person), so you can benefit from sharing ideas, research and debate on the topics they cover.
Why not start off your research by reading about Single-use Plastics here or Prep Your Plastics here?
---
Unlock your unlimited, free access to this and ALL worksheets and posters by completing the quick 'unlock your exclusive access' form alongside or below. If you've already signed up and are looking for your worksheets & posters, please use the exclusive subscribers-only link in any of the newsletter emails.
---
You're signing up to receive free, unlimited access to all worksheets and posters. You'll also get updates whenever new worksheets and posters are added, plus receive occasional news on workshops, books and events, as well as relevant eco-tips and info from the author. You can unsubscribe at any time.
---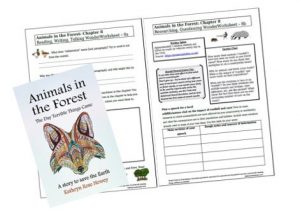 These worksheets are similar in style to Environmental WonderWorksheets Set B – a complete booklet of 18 interactive worksheets exploring all sorts of environmental issues and English literacy skills, available free.
Within the booklet, worksheet 3b covers some further facts and activities on plastics.
Have fun exploring and researching how to save Earth! 🙂
---